Last night, I stayed at work later than I'd planned. I figured it would be easier to finish grading a bunch of papers in my office than at home.
That meant I couldn't go via Randall's Island, as the Queens spur of the RFK Bridge closed for repairs at 8 pm. So I rode into Manhattan via the Willis Avenue Bridge, which lets cyclists off at 125th Street and First Avenue. It was already past 9:30 by the time I got on my bike, but I figured that if I channeled the messenger I once was, I might get to the Queensborough (59th Street) Bridge path before it closed for repairs at 10pm.
Well, things didn't quite work that way. The Queensborough path was indeed closed when I got there. At least a bus is provided. Actually, there's a bus and a truck. Each cyclist is given a number for his or her bike as it's loaded onto the truck. The bus follows it across the bridge.
Not a bad arrangement, right? Well, the bus and truck are nice, and the drivers are prompt and helpful. There are two problems, though. One is motor traffic on the Bridge: I never realized there would be so much after 10 pm! The other is that the bus and truck have to take circuitous routes to get onto the bridge, and once they leave the bridge, as some streets are one-way and others are narrow and don't allow buses or trucks.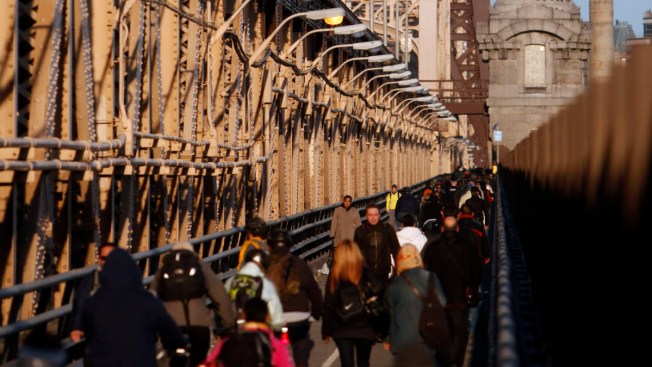 So, it took about 45 minutes from the time we left 59th Street and First Avenue in Manhattan until we disembarked on 23rd Street at Queensborough Plaza. In other words, that trip took twice as long as it took me to pedal from my job, at 149th Street and Grand Concourse in the Bronx, to 59th Street and First Avenue in Manhattan!
I won't whine about the inconvenience: We got across the bridge safely and as quickly as conditions would allow. And, as I said, the drivers and truck-loaders were courteous and helpful. I can't help but to think, though, that whatever reduction in carbon emissions any of us might have acheived by riding from wherever to the Bridge was negated by all the time the bus and truck was stuck in traffic on the Bridge.