If you were riding before the 1990s, chances are that you used a water bottle cage that looked something like this:
You might still be carrying your libations in such a cage. There's no reason why you shouldn't. That you and other cyclists are still riding with such cages is a testimony to their design.
If you have been riding with such a cage for so long, you probably know its design was based on this:
Specialites TA Ref 215
Made by Specialites TA of France, it holds a distinction very few bicycle accessories--and only a few components--can claim: It was the choice of racers, tourists, "rough stuff" and recreational riders alike. Whether you pedaled your Cinelli in the peloton, your Herse over the hills or your Mercian through the moors, you used the TA Ref. 215 cage--or, later, the alloy 417. (The 215 was made from chromed steel.)
Ref. 213
For a time, TA's Ref. 213 cage was also popular until handlebar-mounted cages fell out of favor. And, in the 1970s, the single-clamp 216 became popular with cyclists whose frames didn't include brazed-on bosses for bottle cages.
Ref 216
I thought I knew the Specialties TA line well. (After all, when you get to be my age, and cycle for as long as I've been riding, there are times when you think you've seen it all!) But, in hunting for small parts and accessories for the Trek I'm building, I came across this: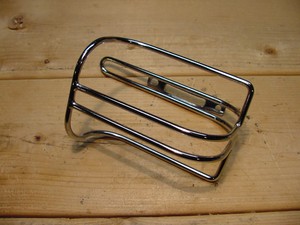 Ref. 218
I have to admit that I have never seen one in person. I tried to find more information about it, but all I could find was a listing on the Blackbird website.
The eBay listing describes the cage--Ref 218-- as having "an unusual rectangular shape." Apparently, it was made to fit the Ref. 220 and 222 "randonneur" water bottles, which look like old-fashioned milk bottles rendered in blue anodized aluminum rather than glass.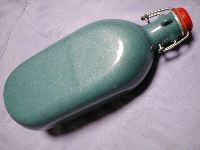 Ref. 222 (1 liter; Ref 220 was the .75 liter version)
Someone--Fred "Fritz" Kuhn of Kopp's Cycles, I believe--told me that TA stopped making aluminum bottles because they would oxidize on the inside and poison their users. I wonder, though, what it was like to use bottles in that shape. How easy or difficult were they to pull out, or push back in, the cage?
The seller says that modern Fiji water bottles fit into those cages nicely. I'll take his/her word, though I generally don't buy Fiji, or any other water transported from the ends of the Earth. I feel certain, however, that the 218 is bomb-proof, as all of the other TA cages were!