A week and a half ago, I gave some examples of oxymorons. As I mentioned in that post, some people would argue that "carbon fiber Brooks saddle" is one.
How about "Air Donkey"?
No, it's not a
no-frills airline
. (Please click the link: the clip is precious!) Nor is it a cheaper version of a
sneaker
teenaged boys of all ages (and genders!) wait hours on line and spend whole paychecks to get. And it's not a
game
in which people deemed to unstable for military service or the police department work out their aggressions.
Rather, Air Donkey might be described if you created a bike rental service by crossing Uber with Airbnb.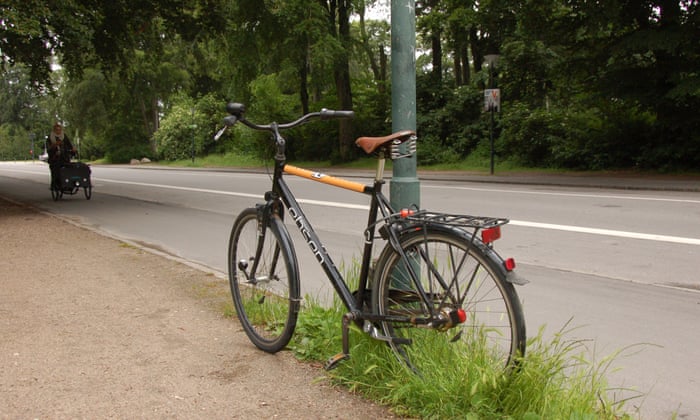 An bicycle outfitted for Air Donkey
At least, that seems to be the vision of Erdem Ovacik, who recently co-founded the Copenhagen (where else?)-based startup which has just opened a Kickstarter appeal to fund their project.
Essentially, Air Donkey would involve people renting out their bicycles by the day or week to tourists, commuters or whoever else is looking to get around the city on two wheels. The firm behind Air Donkey--Donkey Republic--says the system has been tested around Copenhagen and is ready to go.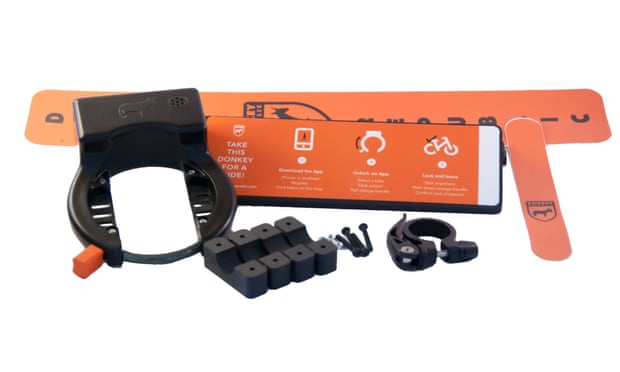 The Air Donkey starter kit.
Members will purchase a starter kit that includes a special rear-wheel lock that can be released with a phone app (and can go 500 days between charges), stickers to mark the bike and a listing on the company's website, which keeps track of available bikes via the locks.
Users simply have to find a bike, pay the rental fee and use the app to unlock the bike. Air Donkey recommends a rental fee of 10 Euros a day; it's estimated that the one-time cost of the starter kit will be 80 Euros. Thus, it shouldn't take long for a member to recoup his or her outlay.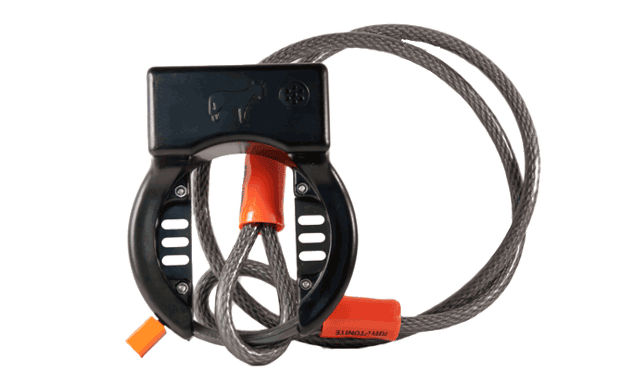 The Air Donkey lock
It all sounds good. However, being the cynical (!) New Yorker I am, I found a problem: the lock. It only allows the bike to be locked to itself or tethered to an immobile object with the attached cable. The "leash" on the lock is flimsy, especially for a bike that's supposed to be parked on the street so that would-be renters can easily access it. Crooks who aren't particularly enterprising have broken much thicker and stronger cables, chains and locks. Also, I have to think that if thieves found ways to steal Citibikes from their ports, they wouldn't have much difficulty in stealing an Air Donkey bike without cutting the "leash" or even breaking the lock.
On the other hand, as Ovacik points out, the system is intended for everyday, utilitarian machines--the kind people typically have in their basements and storage rooms--not fancy racing bikes. The bikes people would rent are more likely to have baskets or child seats than heart rate monitors. Hence the "Donkey" in the name.
Even so, Air Donkey would make a greater variety of bikes available than any municipal bike-sharing system like Citibike could. A bike shop could rent out, say, a Dutch-style city bike, a three-speed, a low-level mountain bike and other kinds of machines in the Air Donkey system. And, many riders could find and return bikes in and to more convenient locations, particularly areas of cities where bike-share ports are difficult or impossible to find.
Whatever its flaws or drawbacks, I hope that the program succeeds and, as Ovacik plans, it's expanded to other cities in Europe and beyond. Anything that can get more bikes on, and more cars off, city streets is a good thing!