Two weeks from today is Christmas Day.
I'll admit, I don't do much holiday decorating. Part of it has to do with time constraints: The holiday season coincides with the end of the semester. So, while other people are stringing lights and hanging globes and stars and such from trees, I'm grading papers, reading exams and explaining to students why they're not getting credit for a course in which they didn't attend half of the sessions and turned in the whole semester's work on the last day of class.
All right, I'll stop whining. I didn't do a lot of decorating even when I wasn't teaching. When I do have time, I'd rather ride, read, write or see people than to spend hours putting up things I'll have to take down a couple of weeks later.
Still, I sometimes like looking at other people's work and even admire some of those really over-the-top displays you can see in those New-York-City-in-name-only neighborhoods.
Then, of course, there are ornaments related to bicycles. Basically, they fall into two categories: those that are made to look like bicycles and those that are made from parts of actual bicycles. The latter category includes the sub-genre that might be called 1001 Uses For Bicycle Chains: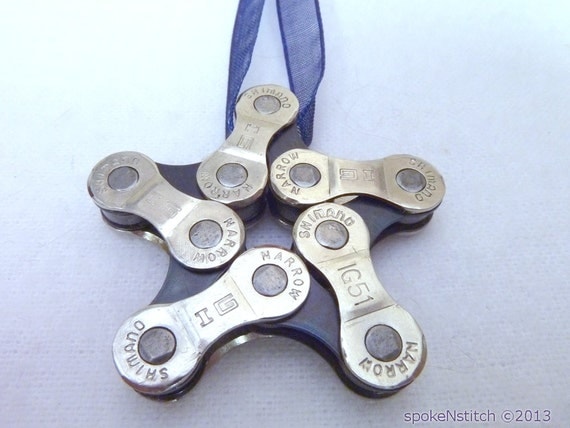 When ordering, be sure to specify 12, 11, 10, 9, 8/7/6/5 speed or 1/8".
In the category of ornaments that look like bikes (and riders), here are some interesting ones:
Add caption
Add caption
Now, this one isn't specifically a Christmas ornament:
but I believe it conveys the sentiment of this season: