"All steel to minimize breakage due to varinging (sic) temperature changes in North America."
First of all, as a writer and English teacher, I want to know what is meant by "varinging temperature changes".
I've inferred that whoever wrote "varinging" probably meant "varying". Now, I know that what we mean by "whine" in America is "whinge" in England. Hmm...Maybe "varinging" is another Britishism (Does such a word exist?) of which I was unaware.
All right. If we accept that "varinging" is "varying", then it begs this question: What in the world does "varying temperature changes" mean? Are there "unvarying temperature changes" or varying steady temperatures?
(By the same token, I have always wondered what "close proximity" meant. Is there "far proximity"?)
Anyway...Since I'm bringing up such issues in this blog, you've probably inferred that the italicized passage at the beginning of this post refers to a bicycle--or a bike part. Actually, the latter is true: the wordsmith who created that piece of meaningless or misleading (depending on your point of view) copy was referring to a Huret Svelto rear derailleur: a thoroughly unexceptional piece even when it first came out in 1963.
And where did the pointless paen to it that opened this post appear? It graced the one and only known brochure of one of the many bike brands that came and went during the 1970s Bike Boom in North America. I am talking about Paris Sport.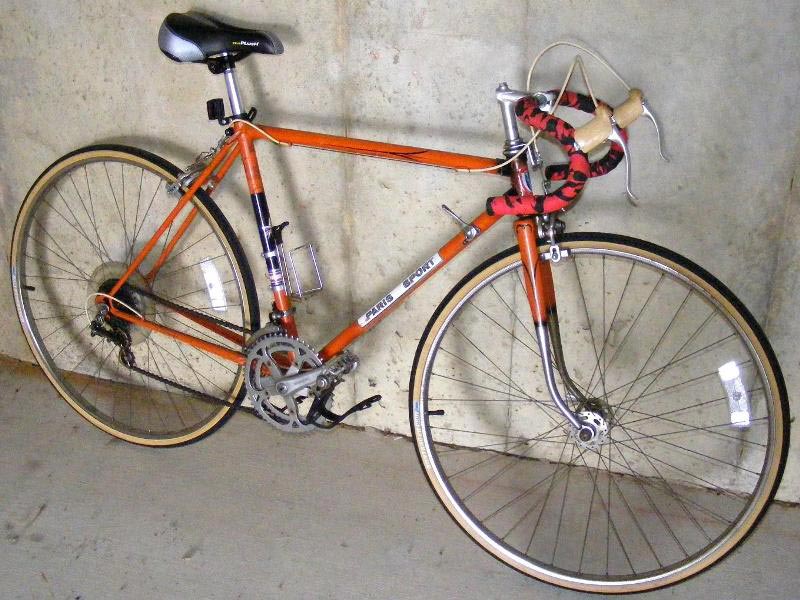 For "varinging temperature changes".
I hadn't thought much about PS in a while. Today I saw one of their bikes locked to a lamppost when I was out riding and shopping. (I have an excuse for the latter: I needed a couple of pairs of flat-ish shoes I can dress up or dress down. Really!) Back in the day, I saw and repaired quite a few of them.
I'm guessing that if you weren't living in the Northeastern US during the Bike Boom, you may not have seen a Paris Sport. But in these parts, a number of shops sold them along other popular brands like Peugeot and Raleigh.
The Paris Sport I saw today is like about 90 percent of bikes bearing that brand one would see back when they were popular. It was a basic French ten-speed, much like those from other Gallic makers of the time. It had a carbon-steel lugged frame, steel cottered cranks and Weinmann center pull brakes. (Sometimes they came with Mafacs.) And the derailleur was not atypical, although other French bikes like it were as likely to come with Simplex Prestige derailleurs.
That last fact provides us with a clue to what the writer of the brochure's copy was trying to say without saying. Those Simplex derailleurs worked well enough when new. And they would continue to do so as long as the plastic from which they were made didn't wear out or break. (If you see an early 70s Peugeot UO8 with its original derailleur, it probably wasn't ridden much.) As to whether the weather had anything to do with its longevity, I don't know.
But there was probably a reason why the writer of that copy didn't take a direct swipe at Simplex derailleurs: Some Paris Sport models came with them. At least, they came with the next-highest model of Simplex: the Criterium. It's the derailleur that came on the Peugeot PX-10. It usually had a silver-colored main parallelogram, in contrast to the red one found on the Prestige, which came on the U08.
Paris Sport was a "house" brand of Victor Cycles (later known as Park Cycle and Sports) in Ridgefield Park, New Jersey, just a few minutes away from the George Washington Bridge. Owner Vic Fraysee and his son Mike, who were racers, had a hand in the development of just about every world-class road racing cyclist the US has produced since the 1960s. They had a training facility attached to their shop, which served as a kind of community center for local cyclists.
So, their lineup of Paris Sport bikes didn't include only the kinds of bikes Peugeot, Gitane and other French makers were offering in the United States. It also included professional-level bikes made in France (usually from Reynolds 531 tubing) and equipped with top-of-the-line French or Campagnolo components. The Fraysees' shop also housed a custom frame building operation which employed, at different times, Francisco Cuevas (of Spain and Argentina), Pepi Limongi (France) and Dave Moulton (England).
Apparently, bicycles were sold under the Paris Sport name until the mid-1980s or thereabouts, and the Fraysses' shop continued for some time after that. A shop called "The Cosmic Wheel" has been operating in Park Cycle's old location for the past two decades, but aside from location, there is no connection between the two shops. These days, Mike Fraysse owns the Burn Brae Mansion, which has served as a location for a few movies and TV episodes.
By the way: The Paris Sport I saw today didn't have the original Huret Svelto rear derailleur. It was converted to a single speed.