Today is Shared Streets Day.
No, it's not another one of those holidays created by FTD or the publishers of calendars and greeting cards.
Instead, it creates an almost traffic-free environment on what are--on weekdays, anyway--some of the busiest streets in the world. Cars will have access to them only through checkpoints, and will be asked to drive at no more than five miles per hour (8kph). Cyclists and pedestrians, on the other hand, will be able to enter and leave them freely.
The restricted streets will comprise a 60 square-block area south of New York's City Hall. Most of them are in Manhattan's Financial District, which normally doesn't see a lot of traffic on weekends, especially in the summer. In fact, I've taken dates and out-of-town visitors on rides in that area when the Stock Exchange and financial institutions are closed, and everyone marveled on how oddly bucolic it seemed. It was as if the glass and steel towers were holding the noise and haste at bay.
Shared Streets area.
I'd bet that even most native New Yorkers have never enjoyed that part of town on a summer weekend. For that reason alone, I think that area is a good place for Shared Streets Day. Plus, it includes some of Manhattan's most historic sites, including the Customs House (ironically, now the home of the Museum of the American Indian), Coenties Slip and the Woolworth Building. It also includes
such notable monuments as the Louise Nevelson Park and 9/11 Memorial and, well, tourist traps like the South Street Seaport.
This event is being held today in addition to the Summer Streets Program, which took place last Saturday and will return next Saturday. Nearly seven miles of major Manhattan Streets, running from Central Park at East 72nd Street to the Brooklyn Bridge, will be closed to traffic. There will be rest stops as well as performances and other cultural events, as well as bike repair stands, along the way.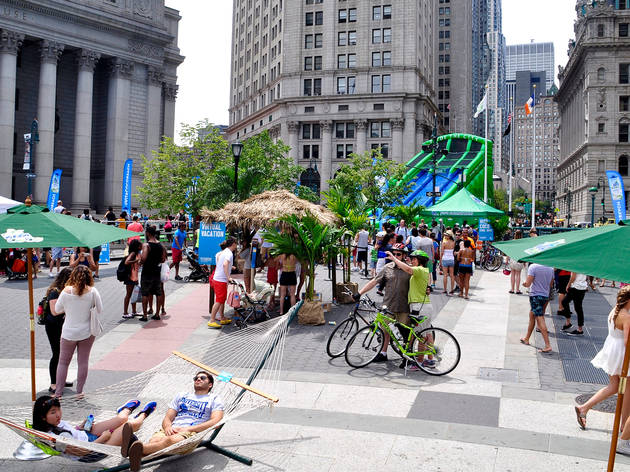 A Summer Streets stop, 2015.
While today is the first Shared Streets Day, the Summer Streets program has been held every August since 2008. Not surprisingly, some drivers have complained about Summer Streets, although not as many as one might expect: although not as quiet as the Shared Streets are on weekends and during the summer, traffic is generally lighter on the Summer Streets routes during those times.
Perhaps the most interesting aspect of Shared Streets, though, is that it encompasses the oldest parts of Manhattan (or, at least, the first parts to be settled and built upon by European colonizers). Thus, for most of its history, it was traversed mainly by pedestrians; only horses and, later, bicycles would break the monopoly walkers would enjoy over the area. Now that area of the city is being returned, mostly, if only for a day, to human-powered transportation.