What do Pittsburgh and San Francisco have in common?
Well, I've never been to the former steel-making capital, but I'm told that, like the City By The Bay, it has some really good Irish bars.
And hills.
In fact, the City of Bridges claims the steepest hill on a public street in the United States: Canton Avenue is supposedly even steeper than Lombard Street.
And Denton Dailey plans to scale it, and 13 other hills, on his bicycle. They're part of a race called the Dirty Dozen. It's being run today, and it's been a part of every Thanksgiving Saturday since 1983.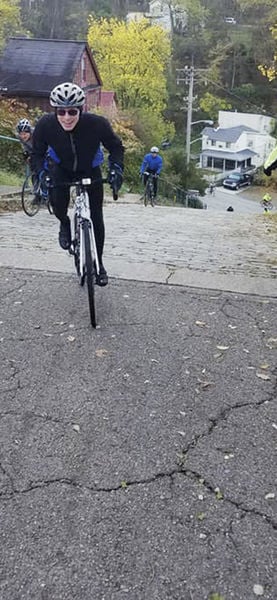 Denton Dailey
Over the years, 1657 riders have entered the race. What sets Dailey apart from the others is not his age, even though he is 60: Three years ago, then-69-year-old Paul Salipante completed the race.
He also won't distinguish himself if he scores points on the hills: last year, 58-year-old John Brockenbrough did that.
So what make Dailey unique--well, almost-- among Dirty Dozen entrants?
Only one other rider--Gene Nacey in 2011--entered the race with an artificial hip. In May 2015, Dailey's a ball-and-socket joint ruined from years of accumulated injuries was replaced with a titanium and ceramic hip.
Surgeons fixed his body. But they couldn't do anything about his broken heart: Not long after, a longtime girlfriend broke up with him. Dailey says his intense training of the past year has been as much a way to recover from that as well as to acclimate to life with a new hip.
However the race ends, Denton Dailey--who is a professor of, ironically enough, robotics and electronics at a local community college--sounds like a winner to me!